News and Events
Area 30 Eastern Mass AA Hybrid Assembly
Sunday September 11, 2022
All interested AAs welcome! Come learn about how  AA Service works 
In Person Location:  
Upper Cape Regional Technical School
220 Sandwich Road
Bourne Mass 02532

——–
Agenda:
-Business meeting in the AM – followed by voting on Finance $$$ motions
-Workshops in afternoon
-Overview of positions that will be available in November at Election assembly
——–
Schedule:
9:15am Orientation ( live or Zoom )
10-4 Assembly ( in person in Bourne or on Zoom )


Contact:
Area Contact for info: chair@aaemass.org
---
AA in a New World
To combat the spread of COVID-19 in person meetings will require masks and follow state guidelines. MA State Guidelines
Links to specific Martha's Vineyard meetings will be listed on the meeting schedule found on this website.
Additional virtual meetings may be found here: http://aa-intergroup.org/directory.php
If you are a secretary of a group and would like to host an online meeting please submit Zoom Meeting ID and URL by sending a message to the moderator of the AA on MV Facebook page.
Events
Lit Comm Flyer Workshop March 2021 rev3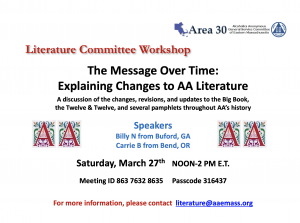 An idea of possible 12th step work- As groups elect to use virtual conferencing, the message to a freshly sober person walking up to a dark meeting hall may be grim. To support the new people it may be a good idea to elect someone to stand lookout starting before the meeting begins and continuing until after the first 10 or so minutes of the meeting. 
Be well and take care of each other…
Louis H.